Philadelphia has a history of big turnouts for the Lance Armstrong Foundation's annual Livestrong Challenge. This year, the weekend of August 20 through the 22nd was no different. Over 5700 participants from all over the world flocked to Philadelphia to walk, run, and bike together to raise funds to support cancer research. There were 3200 cyclists in the Challenge alone. The determination and Livestrong spirit of these athletes helped the city raise an astonishing $3.1 million!
The Kitchen Kapers team was also present for this inspiring two-day event, selling the Chantal Livestrong line of mugs and tea items, 10% of gross sales of which go directly to the Armstrong Foundation.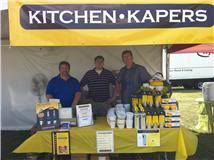 Overall, Philadelphia Livestrong 2010 was a great success. It was heartwarming and inspiring, a true testament to the Livestrong spirit and the people in the City of Brotherly Love!