In the past few years, cake balls have slowly become the new dessert craze. It was not until Angie Dudley, the blogger of Bakerella.com, decided to take it one step further and placed the cake balls on a stick. Then came Cake Pops! What I love about cake pops is that they are the perfect dessert for any event. Whether it is a baby or wedding shower, birthday, holiday or just a Tuesday-you can make cake pops for any occasion! For inspiring ideas please check out Angie's book Cake Pops.


In light of the cake pop phenomenon there is now an appliance that makes cake popping even easier: the Babycake Maker! This past weekend I knew I was going to be stuck inside due to inclement weather so I figured it was the perfect time to see what all the excitement was about. Before I begin I must admit that baking is not my forte. I would much rather roll up a spicy tuna roll then bake a cookie any day. So, if I am successful baking cake pops then literally anyone can do it!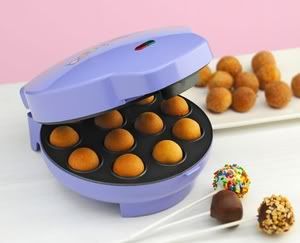 Since I am not a successful baker naturally I tend to prefer dishes more on the savory side. So I started to think, what else can I make with this Babycake Maker? I created a menu of sweet and savory items that I was going to try. My list was as follows: Blueberry Muffin Bites, Brownie Bites, Red Velvet Cake Balls, Corn Fritters and my personal favorite-Crab Cake Balls. Although, the Babycake Maker comes with recipes I decided to get store bought mixes to save time and the mess.
First, I decided to make the Blueberry muffins for breakfast. I poured the mix into the bowl and poured a little extra water, since I read if the mixture was too dense it may not cook all the way through. I also read not to pour too much mixture or it will overflow. Well I guess I under poured and the result was more like football shaped muffins-but nonetheless they were delicious. The machine heats up extremely fast and just as a warning it gets very hot! I was able to whip up a couple batches in less than 10 minutes!
Now that I felt more confident I decided it was a perfect time to try out my cake balls as a snack to have throughout the day. The crab cake recipe I followed is my own and I make it to taste as I go. You are more than welcome to try it out for yourself by combining the following items into a mixing bowl:
1 cup of bread crumbs
1 egg
minced garlic to taste
salt and pepper to taste
1 red bell pepper, diced
lemon juice
1/2 cup of mayo
1/2 cup of sour cream
The crab cakes took a little longer than the muffins but the end result was well worth it! They were amazing and I mixed cocktail and tartar sauce together for the dip!

Inspired to "bake" some more, I decided that brownie bites would be my next project. Usually when I try to make something that should be soft and chewy on the inside and a little crispy on the outside it ends up being a failure. Not expecting anything spectacular I whipped up the batter and baked a couple batches. Again, they took a few minutes longer since the mixture was dense but once again they were worth the wait! Since my opinion was biased I decided to bring them to work the next day to get a true consensus and they were a hit!
Well, I have to say I'm three for three so now it's time to step it up and make some Cake Pops!
Once again, my southern influence is showing with my love for red velvet cake. For anyone that has not made this truly decadent dessert before, be careful and wear gloves because the batter will stain your fingers! From what I have read it is recommended to use candy coating for your cake pops because of the light texture. Since I have never used candy coating before I decided to stick with what I know and see what kind of mess I can make with frosting. While it is traditional to use cream cheese frosting with red velvet I opted for a fluffy white frosting hoping that the alternative would be lighter and easier to use.
First, I mixed the ingredients together following the directions on the box-again adding a little bit more water so the batter is not as dense.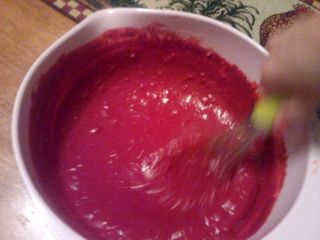 Then I poured the mixture into the babycake maker and 4 minutes later they were done! I set them onto the specially made cooling rack that comes with the maker.


While they were cooling I attempted to "melt" the frosting. I placed the frosting in the microwave for 30 sec at 10 sec intervals while mixing in between. So far, so good. Then I took a stick, included with the maker, and dipped it into the frosting and then carefully placed the cake ball on top. The frosting will help hold your cake pop in its place. Next, I twirled the top of the cake pop into the frosting-not submerging it completely since I knew the frosting was too thick. The cooling rack also doubles as a decorating tray/stand for the cake pops so I placed them in there as I went.


Then I added some sprinkles for some extra fun and voila! Cake Pops!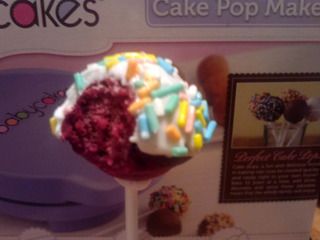 Babycakes was definitely easy to use and easy to clean and fun all the while using it- I highly recommend it to anyone!!!
-Jenny