New to the market is the Cuisinart Blend & Cook Soup Maker, and I'm really excited about this product. It's the first of its kind and I can't believe that someone hasn't thought of this before! This is a sort of blender/cooker combo. A lot of people might think that they don't need an appliance like this, but if you're looking for a blender and a food processor, this could probably take the place of both and save you some money. Here is what the blender looks like when you take it out of the box and assemble it:
It really does everything. You can make sauces and soups in it from start to finish including sauteing onions and vegetables, grind and chop nuts, make bread crumbs or cookie and cracker crumbs, crush ice, grate citrus zest, make frozen drinks and smoothies, and even make baby food! I would have loved to have had this when I was in college. Actually I would still really love to have one because it's a time-saver. You don't have to worry about cooking soup on a stove then precariously having to transfer the hot liquid to a blender to puree it. Because you can cook and blend in the same unit! I also like the fact that it's not a uni-tasker. I don't like buying a lot of appliances that only do one thing. So this is great if you have to be conscientious of counter and storage space too. After taking the product out of the box and looking it over I'm really impressed with how well it's made too. The jug of the blender feels heavy in your hand, but not unpleasantly so. Take a look:
It feels sturdy, so there's no doubt in my mind it could hold up well in my kitchen. Plus it has some seriously sharp and powerful looking blades. You can see them and the nonstick cooking surface on the bottom of the jar here: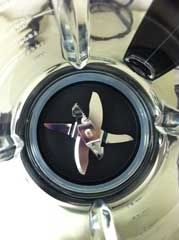 The base of the jug has a unique connector/cooking element that plugs into the base of the blender. Here on the left is the base of the jug and on the right is the base of the blender.
All you have to do is align white arrows on each item and the two fit together easily and perfectly. Fitting the two pieces together is no more difficult than docking an iPod or charging a cellphone. The cooking element part removes easily from the jug, making it a breeze to clean too. Personally, I think this is a great new appliance and I can't wait to see it in action!