I have two nephews which I lovingly refer to as my "cookie monsters". Every time they visit, without fail, as soon as they walk in the door of my house, they head straight for the pantry and the cookie stash. (Of course, I do tend to keep cookies on shelves which are perfectly eye-level for them, but that's what every good aunt is supposed to do, right?)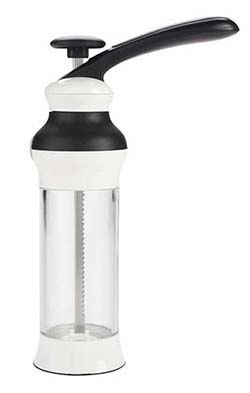 They aren't typically picky when choosing from the cookie stash, so long as the cookies have some type of chocolate in them or are chocolate; chocolate cookies are always pulled out of the pantry first. So for Valentine's Day, I decided to whip them up a special little treat, Nutella Spritz Cookies. I'd never made spritz cookies before, but we recently got in the new Oxo Cookie Press, which has so many different shapes in it, that I had to pick one up and test it out. So, I decided to make Nutella Teddy Bears and Hearts for my littlest valentines.

I wanted these to be really chocolatey and packed with flavor, as spritz cookies can sometimes be a bit on the bland side, and they turned out exactly as I'd hoped. They were very rich and you could actually taste the Nutella. Of course the most important thing was how they'd be judged by my official cookie taste-testers, and I'm happy to report they were a big hit! The cookie press was also really easy to use. It's grippy handle and lever action made it simple to press out the cookies, and didn't require much effort. Even my Mom, who is a spritz cookie veteran, was impressed with how simple it was to operate. I'm really glad I decided to pick one up and I can't wait to use it again. Maybe some Green, Gold and Purple Fleur De Lis for Mardi Gras? Or how about some Irish Coffee Shamrocks for St. Pat's?


Nutella Spritz Cookies
Ingredients
1/2 cup solid vegetable shortening
1/2 cup Nutella
1/4 cup granulated sugar, sifted**
1/2 cup brown sugar, firmly packed, sifted**
1 egg
1/2 teaspoon vanilla
1 1/2 cups all purpose flour, sifted
1 tbsp. dutch processed cocoa powder
Instructions
Preheat the oven to 375° F. In a large bowl, combine the shortening and the nutella and using an electric hand mixer, mix until smooth. Gradually add in the sugars, and beat together with the shortening/nutella mixture until combined. Add in the egg and vanilla and beat until incorporated. Add in the flour and the cocoa powder and mix until combined. If the dough is too soft at this point, you can set it in the fridge to chill for 10-15 minutes until you have a stiffer consistency. Transfer the dough to your cookie press and press cookies onto a cold, ungreased cookie sheet. Transfer the cookie sheet to the oven and bake for 6 to 8 minutes. Remove the cookies from the sheet and transfer to a wire rack to cool completely.
**Baker's note: It may seem odd to sift your sugars for this recipe, but clumps of hard brown sugar are not a friend when you're using a cookie press. This little step will help insure that your press operates smoothly, and that your shapes come out perfectly. Also, make sure that your cookie sheets are cold and free from grease, parchment or sil-pat sheets. The cookies actually need to be able to adhere to the sheet in order for their shapes to come out properly. Don't worry about them sticking while baking; they'll come right off when it's time to transfer them to the cooling rack.