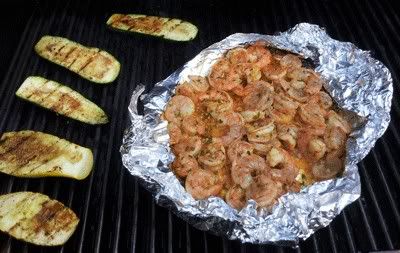 Although I've been cooking for as long as I can remember, I'm a total amateur when it comes to grilling. Sure, I've slapped some burgers and dogs on the grill before, but that's about the extent of my barbecuing acumen. Now that summer is here and the mercury is rising, however, I've decided to move the heat out of the kitchen and institute the policy that anything that can be cooked on the stovetop should be grilled instead. This new policy meant adapting my all-time favorite shrimp recipe for the grill. Today, I present you with the delicious results of that experiment. (Full disclosure: I probably make this shrimp, or some variation on it, about once a week, and I bet after you make it once, you will incorporate it into your summer dinner rotation too!)
Scrumptious Summertime Shrimp Marinade
Ingredients

3 tablespoons extra-virgin olive oil

1.5 cloves fresh minced garlic (this works out to be about 2 tablespoons if you're using the jarred stuff)

2 tablespoons chopped fresh basil (dried is *not* an acceptable substitute!)

1 teaspoons paprika

1 teaspoon sea salt

1/2 teaspoon black pepper
This recipe is perfect for summer because:

It cooks up in minutes.

It uses simple ingredients that you probably already have around the house.

It's a total crowd pleaser.
Note
I recommend using Jumbo (21 to 25 ct.) or Extra Jumbo (16 to 20 ct.) shrimp for this recipe because bigger shrimp are easier to grill with, but really, any size will do. You can easily double or triple the ingredients depending on how many people you have to feed. These proportions are for 1 lb. of shrimp, which is what I prepare for 2 people, and it usually yields some leftovers.
Instructions
To make the marinade, simply add all of the above ingredients to 1 lb. of peeled and deveined shrimp (I used the Progressive Seafood Scissors for this) and stir until the shrimp is completely coated in marinade.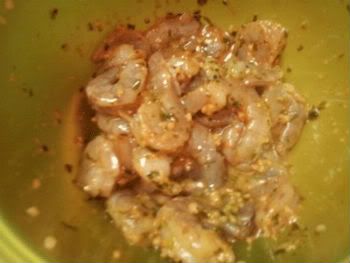 Next, cover your shrimp and refrigerate it for at least an hour. As with all marinades, the longer the marination time, the stronger the flavor of the finished product; when I know I'm making this shrimp for dinner during the week, I like to whip it together the night before and seal it in an airtight container until I'm ready to use it. It's so easy to make that prepping the night before never feels like a big chore. However, if you need to make something on the fly and you haven't had time for advance prep, you can get away with about an hour of marination time. Or, if you're really clever, you can use a product like the Vacuvin Instant Marinater to speed up the process.
Once the shrimp has been properly marinated, assemble your grill packets. Stack two 20-inch sheets of foil on top of each other, center the shrimp, pinch the short ends of the foil together, and lightly fold the long ends of the foil over to form a lip all the way around. Don't scrunch the foil too tight or else you won't have room to toss your shrimp while grilling. You'll also want to pre-heat your grill to medium-high heat.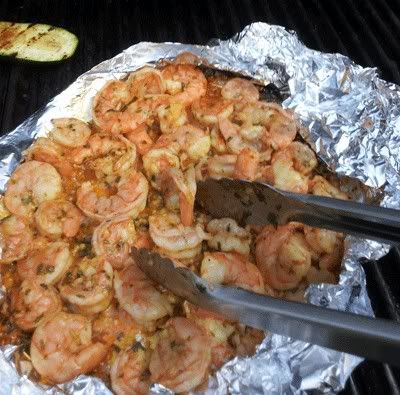 To cook, simply grill for about 6-8 minutes, tossing occasionally with grill tongs, until shrimp is pink and opaque. Bonus tip: When you've got about a minute left on the clock, place half a lemon face down on your grill grates (the heat from the grill releases the juice from the lemon to maximize flavor). Squeeze the grilled lemon wedge over the shrimp before serving.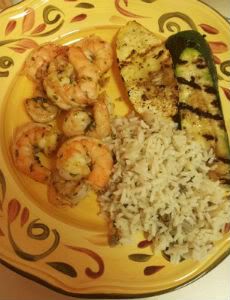 This time around I served the shrimp with grilled zucchini and my go-to favorite mushroom rice, but really, it goes with anything! I've also served it on top of spinach salad and tossed it with angel hair pasta in the past. It's also super versatile. For example, if you wanted to give this dish a Mexican flare, you could substitute cilantro in place of basil, chile powder in place of paprika, and lime in place of lemon. I've done it this way before and it's just as delicious as the original recipe, but with a totally different flavor profile. When I prepared the shrimp Mexican-style I served it with sauteed red and green peppers, onions, and yellow rice.
So, there you have it. In one evening I went from barbecue bush-league to grill goddess, all because of this awesome marinade. Happy grilling, everyone!
-Erin