How I found the Skinny Ginny in Sunny Florida.

Last week I did some much needed chillin' on the beautiful shores on the Gulf of Mexico. The weather was picture perfect. We enjoyed constant sunshine and gentle breezes. Not too hot and with the welcome absence of humidity we wiled away the first few days on a variety of beaches on the west coast of central Florida.
Calm blue-green waters that were already warmer than I'm used to at the South Jersey shore in the peak of summer and sand that resembled refined sugar welcomed us each morning. Our favorite beach was at Howard Park. A state park near Tarpon Springs, the wide but smallish beach was adorned with majestic palm trees. The beach also offered little nooks to hide out in, rocks to climb and bask in the sun on and calm, clear waters. It was a lazy and quiet afternoon. Here we let our troubles float away.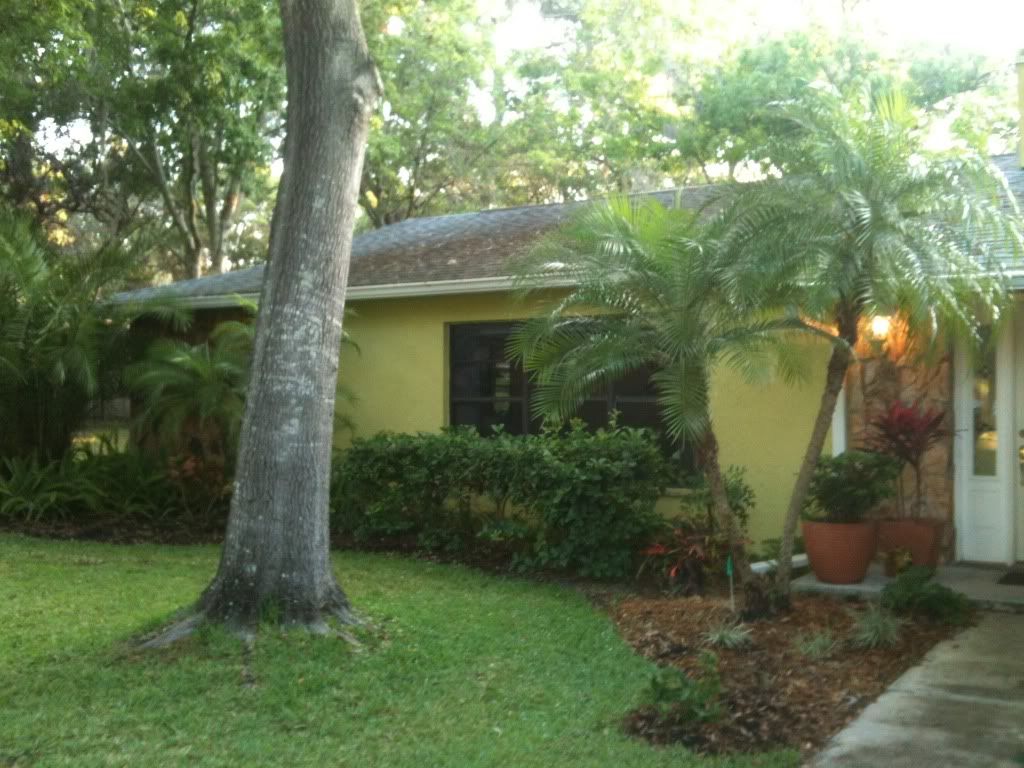 We were staying with friends in Palm Harbor in a lovely bungalow with even lovelier grounds so we didn't venture out for dinner until day four. We settled on a small restaurant in downtown Dunedin called The Living Room.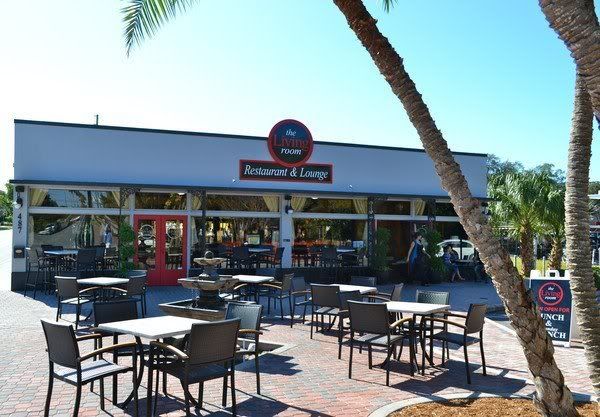 It had an inviting and open interior with a good-sized bar area and ample seating outside. The live music was an added bonus. We settled into a small high-top outside under the awning to get a respite from the formidable Florida sun.
While it seemed the perfect opportunity for a Bombay (gin) and tonic, one of their drink specials caught my eye, the Skinny Ginny. This interesting cocktail features Hendricks gin, muddled cucumber and basil with a touch of agave nectar and the kiss of fresh lime juice. What an absolutely fabulous tall, cold and refreshing cocktail. The perfect antidote to the hot sun. I have already purchased the Hendricks gin and agave nectar in anticipation of the arrival of 80 plus degrees here at home, outside Philadelphia.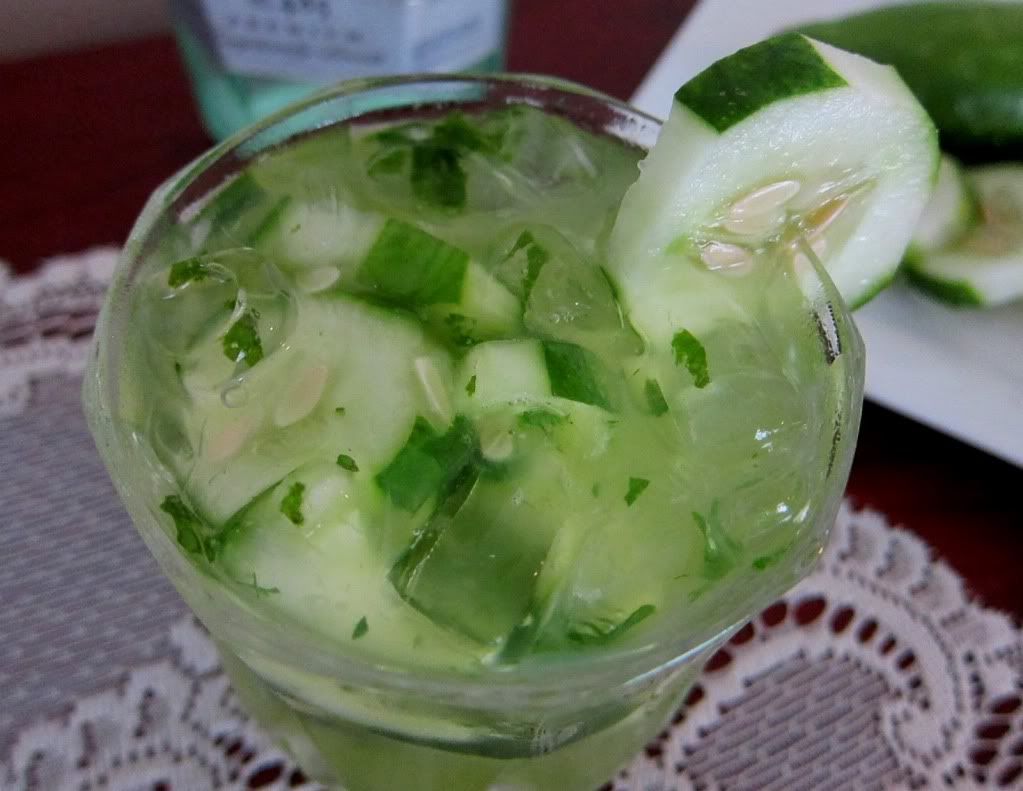 When the thermometer starts to climb try this refreshing and unusual cocktail for yourself!
The Skinny Ginny - based on the version at The Living Room in Dunedin, Florida
Ingredients:
1 cucumber (seeded)
3-4 shredded fresh basil leaves
2 oz of Hendricks gin ( of course you can use any gin you like, but Hendricks takes this summer cocktail over the top)
1/4 oz of fresh lime juice
3/4 oz of agave nectar (I would imagine you could substitute simple syrup if you had a hard time finding agave nectar, but it really added a nice subtle and interesting flavor to the cocktail)
ice
What you'll need:
Preparation:
Slice 3 slices of cucumber.
Muddle the cucumber slices, basil, lime juice and agave nectar in the cocktail shaker.
Add ice, gin and shake vigorously.
Pour into a tall glass
Add a few more cucumber slices then fill with ice.
Garnish with a cucumber slice and a basil leaf.
If you ever find yourself near the Clearwater, Florida area I would definitely suggest you make the short trip up north to Dunedin, grab a table outside at The Living Room on Main and order a Skinny Ginny. And, their pork carnitas aren't bad either!
Here's another variation I found online.
Cucumber-Basil Gimlet
Total Time: 4 1/2 hours to make the simple syrup
Hands On Time: Less than 5 minutes
Ingredients:
For the basil simple syrup: Makes 2/3 cup
2/3 cup agave nectar
3/4 cup water
2 cups lightly packed fresh basil leaves

For the cucumber juice: Makes 1/2 cup


3 to 4 medium cucumbers (English cucumbers would work well)
1 teaspoon freshly-squeezed lime juice
1 teaspoon agave nectar

For the cocktail: Makes 1 cocktail


4 to 5 fresh basil leaves
2 ounces Hendricks or another London dry gin
3/4 ounce cucumber juice
3/4 ounce basil simple syrup
1/4 ounce freshly squeezed lime juice
Ice
Instructions:
For the basil simple syrup:
Whisk together water and agave in a small saucepan then place over medium heat and bring to a simmer.
Remove from heat, add basil, and set aside at room temperature to cool, at least 30 minutes.
Pour through a fine mesh sieve, discard basil, then cover simple syrup, and refrigerate until chilled, at least 4 hours. (Can be made up to 1 week ahead. Store refrigerated in an airtight container.)

For the cucumber juice:

Combine cucumbers, lime juice and agave nectar in a mini food processor or blender and puree until smooth.
Strain through a mesh sieve, pushing on the back to extract juices (you should have about 1/2 cup). (Can be made up to 4 days ahead. Store refrigerated in an airtight container and shake before using.)

For the cocktail:

Reserve one basil leaf for garnish then place remaining basil in a shaker and bruise a few times with a muddler.
Add remaining ingredients (except that basil leaf for garnish) and add ice.
Shake until chilled then strain into a chilled cocktail glass.
Smack reserved basil leaf between your hands over the glass (to release essential oils) then float on the cocktail's surface and serve.
CHEERS!