I fell in love with sushi the first time I tried it. I have tried to research the actual meaning of the word, and though not conclusive, the consensus appears to be that the word sushi refers to vinegared rice. Based on this, vegetarians and vegans can happily indulge in this unique and visually appealing treat.
Although it does seem intimidating at first, making maki sushi, or the rolled sushi commonly found everywhere today, is rather simple once you get the hang of it. Becoming a sushi expert is another story, as the artistry and finesse of a trained sushi master cannot be downplayed. But for the average person at home, it is an easily accomplished task to create good sushi. The first time I attempted to make sushi, I was totally stressed about creating perfect rolls. So of course, the result was terrible. But once I relaxed and took my time and realized it didn't have to be perfect, I began making better rolls. Making sushi is fun, when you let go and play with all of the great options there are for the filling.
A common type of vegetarian sushi that is found in grocery stores everywhere contains a combination of cucumber, avocado, and carrot. When I was in Japan visiting my brother, I was surprised when he told me that the Japanese don't even put avocado in their vegetarian sushi. So, while carrot/cucumber/avocado filling may not be truly authentic, this Americanized combination is still very tasty.
The very first step is to make the sushi rice. The type of rice used to make sushi rice is typically a white or brown short grain rice. Cook the rice per the directions, and put into a bowl. Then, for every 1 cup of uncooked rice (which will yield approximately 3 cups of cooked rice), you add a mixture of 2 Tbsp. rice vinegar and 1 tsp. of sugar to the cooked rice. Traditionally, this is mixed with a wooden paddle, though a wooden spoon will do. Let the rice cool for 15-20 minutes.
Get the filling ready while the rice cools. Vegetables are usually sliced into thin strips. If using avocado in the filling, it is best to immediately sprinkle some vinegar on the slices to prevent browning.
Toast the nori for a few seconds. You can do this by holding nori sheet over a high flame from your stove. Then lay the nori flat on your bamboo mat.
Take a hand full of the vinegared rice and spread it over the nori sheet. Having a bowl filled with water and a little vinegar is essential for this step, as sushi rice is also known as sticky rice, for good reason! Dip your hands in the water and keep adding and spreading the rice onto the nori. I chose to leave about 1/3 of the sheet empty, though I have seen directions where you can also spread the entire sheet with rice, leaving space on the sides. I added a sprinkling of sesame seeds on the flattened rice. A little wasabi can be dabbed onto it at this point as well, but I chose to leave it on the side this time. Top the rice with some slices of filling. Temper your desire to overload the roll with filling! Practice restraint when it comes to this step. Stuffing the nori with the filling will make rolling very difficult, if not impossible.
Slowly begin to roll the end closest to you, over the filling mixture, using your fingers if needed to keep the veggies in line. Keep rolling until you have formed a log. It seems awkward at first, but with practice this does get easier, as you start to get a "feel" for it.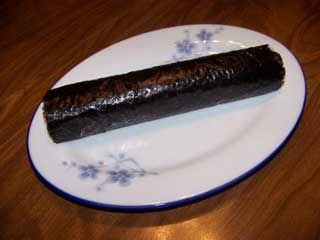 Once the roll is formed, all you need to do is slice it into approxiately 1 inch pieces. A good strategy for doing this is to slice the roll in half, place the two halves together, and slice them together. This way, you get more uniformed size pieces.
That's it! It's nice to arrange the sushi pieces in an attractive way that shows off the filling. Sushi is often accompanied by soy sauce, extra wasabi, and pickled ginger. The pickled ginger is used as a palate cleanser and is a great complimentary flavor that tempers the saltiness of the nori and soy sauce.
These rolls are not perfect. I think I added too much rice to the nori in this roll. And I still need to practice my rolling skills. But it was fun and tasted really good. Kitchen Kapers even has a complete sushi making kit that has everything needed to make fantastic sushi at home.