I'm the first to admit it, I'm a tomato snob. I will only eat them when they are available locally and are in season. I refuse to purchase and eat the mealy, pink-inside imposters that pose as the real thing year-round in supermarkets. Sure, some hothouse ones can be okay in a pinch. But I tend to make due with canned tomatoes the rest of the time, which are actually pretty good, but which does limit the types of recipes I can make. But nothing beats a fresh tomato in late summer grown locally or from your own garden.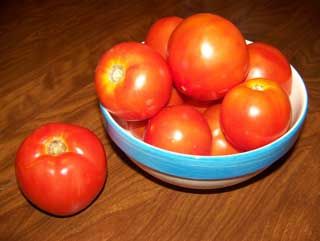 I go crazy this time of year with tomatoes, eating as many as I can due to their ephemeral nature. So I went to my local farmer's markets where they were selling huge baskets of bright red tomatoes. I tend to eat them as simply as possible, either with a little sprinkling of salt, or made into a sandwich with some crusty bread, basil mayo and salt and pepper. But after a while, this does get boring. So recently I dove into my cookbooks, looking for different ideas and inspirations to use fresh tomatoes in a way that would highlight their late summer perfection.
I love salsa, but I wanted to go beyond the basics. I found an interesting recipe for a black bean, tomato and avocado dip. It was really simple to put together, and the avocado and black beans lent some complexity and heartiness to a typically basic salsa recipe. The dish looks complex but it's just as easy to make as plain salsa, and the color palate is much more interesting.
Stuffed tomatoes are another classic way to showcase fresh tomatoes, and one that is impossible to make with canned tomatoes, so now is the perfect time to make them. Some fresh basil, bread crumbs, garlic and onions and you've got an easy, visually appealing, light meal.
Tomatoes and pasta are an obvious pairing. This dish, spaghetti salad, is simply chopped tomatoes, garlic, basil, vinegar and olive oil. It's great for summer or fall days where you want to get dinner together with minimal effort and almost no cooking at all.
Finally, I've been wanting to try this recipe for a while, so I decided to try it while I still had a half a basket of tomatoes left. These are tomato tartlets with thyme. And there is a slice of basil in the middle of each tart. I must admit I went a little basil crazy with these recipes, but it does go so well with tomatoes. I made this on a day with low humidity, since tart dough can be kind of finicky in the heat. The dough came out great, buttery and flaky. You really cannot go wrong with a whole stick of butter, can you? And some cheese sprinkled on top during the last few minutes of baking would be ridiculously good too.
Thin slices layered in a spiral are best for this tart. The Tellier Tomato Slicer or a great little serrated knife like the Shun Pure Komachi Tomato/Cheese Knife would have come in handy for this job.
I've finally finished off that basket of tomatoes. Oddly enough I never get sick of them even though I have eaten them every day over the past few weeks. Maybe because I know that there's a whole winter ahead of me where I'll be a slave to the jar or can. I guess that'll only make them taste better when they come around again next year.